Venue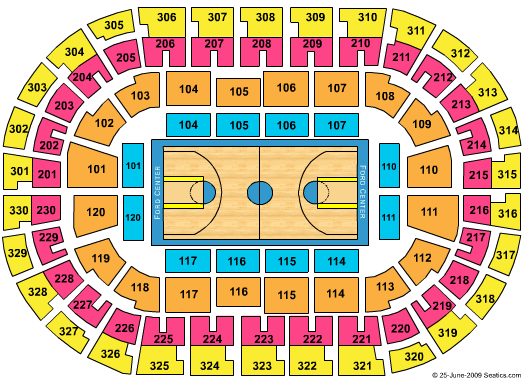 Children
Children ages 2 or younger do not require a ticket. Ages 3 and up will require a ticket to enter the arena, as well as any child that will require a sea
Doors Open
The main entrance doors open 90 minutes before tip-off. The two primary public entrances to the arena are located on the north side on Reno Avenue. Guests may also enter at the Old No. 7 Club on the west side of the arena, just off of Robinson.
Box Office
The box office is located at NE main entrance.
Guest Relations Desk
Guest Relations Desks are located in 105, 109, 120, 210 and 22
First Aid
The First Aid room is located outside section 112. Additional medics are stationed outside section 228 on the COX Club Level and section 317 in Love's Loud City.
Elevator Locations
Elevators 1 & 2: Sections 101, 203, 302
Elevators 3 & 4: Sections 107, 209, 310
Elevators 6 & 7: Sections 109, 212
Escalators 
Escalators are available near each of the two primary public entrances to provide access to the Club and Suite level and upper level seating.
Prohibited Items
For safety reasons, prohibited items include but are not limited to:  
Alcohol, drugs, illegal substances or any paraphernalia associated with drug use
Audio/Video recorders, professional cameras, tripods
Cans, bottles, coolers or other similar containers
Fireworks
Flags/Signs with poles
Laser pens/pointers of any type
Noisemakers such as air horns
Outside food or drinks
Oversized bags, backpacks, duffel bags or diaper bags
Pepper spray/Mace
Weapons of any type, including chains, knives, firearms and spiked jewelry
Any other item deemed unacceptable by event/building management. 
Places to Eat
Angie's Bakery – Section 109
Handmade gourmet pretzels, specialty deserts including fresh baked pies, cookies and brownies. 
Billy Craig BBQ – Section 120
Barbecue sandwiches, platters, nachos, potato bakers and fries.
Casa Azul – Section 317
Tacos, taco burgers, super burritos, taco in a bag, nacho supreme, Indian tacos.
Candy Land – Section 315
Funnel cakes, corn dogs, cotton candy, caramel apples and sno cones.
Dog House by Schwab's – Section 101
Foot long bratwurst, cheddarwurst, polish sausage, hot link, Italian sausage, kosher dog, as well as Chef's chili bowl, grilled chicken sandwiches, peanuts and chips.
Fast Break – Sections 104, 301, 307 & 324
Jumbo hotdogs, super nachos, pretzels with cheese, grilled chicken sandwiches, popcorn, peanuts and chips.
ICBY Yogurt – Section 102
Soft serve yogurt in a cup or cone.
Loud City Grill – Section 309
Onion burgers, Cuban hoagies, grilled cheese sandwiches or grilled chicken sandwiches, spiral taters, and JoJo's. 
Pizza Hut – Sections 112 & 119
Pepperoni or cheese personal pan pizzas. 
Red River Bistro – Section 110
Garden fresh salads, soups, hand carved meats, Panini grilled sandwiches and wraps, and fresh fruit and vegetable sides. 
Steak*eze – Sections 107 & 330
Beef or chicken Philly cheese steak sandwiches, onion burgers, Philly steak JoJo's, chicken tender baskets & fries,  grilled chicken sandwiches.
Sunset Strips – Sections 111 & 322
Chicken tender baskets with sauce, grilled or fried chicken sandwich baskets, JoJo's, macaroni and cheese and baked beans.